Root Canal Therapy – Oklahoma City, OK
Make That Toothache Go Away Today
Often, really painful toothaches are the result of an infection in the dental pulp, which is the sensitive nerve found inside every single tooth. In the past, teeth with this kind of issue were simply removed, but today, Dr. Hermen can save them using root canal therapy. Despite the procedure's dubious reputation, it's actually one of the most effective ways to stop severe dental pain, and after getting one, most patients wish they came to see us sooner! If one of your teeth is seriously bothering you, give us a call today, and we'll try to see you as soon as possible for root canal therapy in Oklahoma City, OK.
Why Choose Jeffrey F. Hermen, DDS for Root Canal Therapy?
Same-Day Emergency Appointments Available
Sedation Dentistry Makes Dental Nerves Disappear
Highly-Skilled Team with Decades of Experience
The Truth About Root Canals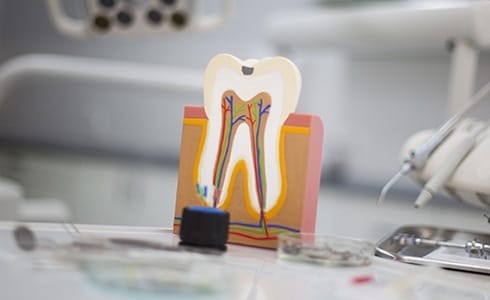 To perform a root canal, Dr. Hermen starts by numbing a patient's tooth, and then he creates a small hole in the enamel so he can remove the infected tissue. The tooth is then cleaned, filled, and eventually topped with a crown. So, why do so many people think this treatment is painful? It's because root canals often get incorrectly connected with the terrible toothaches they help relieve. In truth, while in the chair, it feels very similar to getting a small filling, which is to say not uncomfortable at all!