Veneers – Oklahoma City, OK
Transforming and Revitalizing Smiles
Want to be rid of the many imperfections plaguing your teeth? Looking to completely transform your smile's appearance? Guess what? You can with veneers in Oklahoma City! As a skilled cosmetic dentist, Dr. Jeffrey Hermen can place these customized restorations over your natural teeth to create a more uniform, even, and beautiful smile. You'll never have to worry about your old smile reappearing, as these unique cosmetic solutions are permanent! Ready to find out if you're eligible for treatment? Give us a call today to schedule a consultation with Dr. Hermen.
Why Choose Dr. Jeffrey Hermen for Veneers?
Versatile treatment for covering cosmetic imperfections
Custom materials used to create long-lasting, stain-resistant veneers
Highly-skilled and trained cosmetic dentist performing the application
What Are Porcelain Veneers?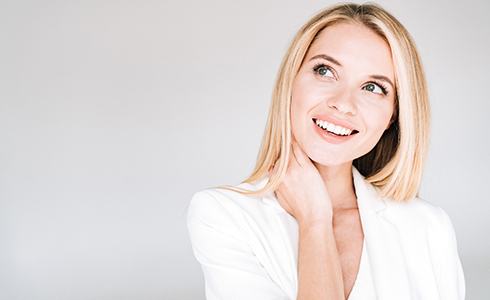 Porcelain veneers are thin shells of ceramic that are custom-made to fit over the front of your natural tooth and hide any imperfections. Considered to be one of the most popular cosmetic solutions available, many of Hollywood's elite turn to veneers are a safe and reliable way to transform smiles and create an even, more uniform aesthetic.
Veneers are custom-made based on the specifications agreed upon between you and your cosmetic dentist in Oklahoma City. This means that your veneers will be created in a way that matches the color, size, and shape you want to see in your smile.
Who is a Good Candidate for Veneers?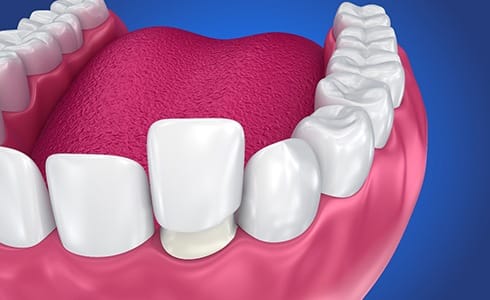 Although porcelain veneers are an available treatment for most individuals, it is necessary that you have good oral health to start. If it is discovered that you have cavities, tooth decay, or gum disease, it will be necessary for our team to treat these problems first before moving forward with veneers.
If you possess any of the following cosmetic flaws, you can feel confident that porcelain veneers might just be the right solution for you:
Chips
Cracks
Stains
Discoloration
Gapped teeth
Misshapen teeth
Crooked teeth
"Short" teeth
What is the Process for Receiving Veneers?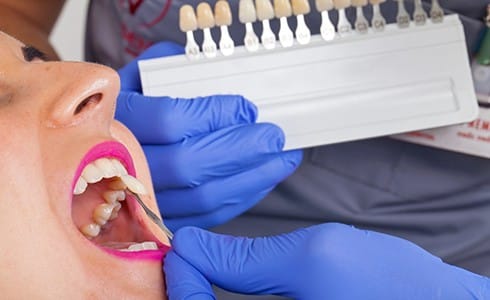 To receive porcelain veneers, you must first schedule a consultation with Dr. Hermen. During this visit, you will discuss your goals and what you would like your new smile to look like. Once he examines your teeth and determines whether you are an eligible candidate, he will recommend the appropriate number of veneers to cover your imperfections. Ultimately, it is up to you as to whether you want to cover all or only some of your teeth.
After using a shade guide to identify the proper shade for your new veneers, he will remove a small bit of enamel from each tooth to ensure the bonding agent used properly adheres the veneer to your tooth. He will then capture impressions and send them off to a dental lab. There, technicians will work to create your restorations based on the specifications provided.
After some time, you will return to have your individual veneers placed. Because it takes someone with an artistic eye and skillful hand, Dr. Hermen will carefully place each veneer onto the corresponding tooth. Using a special curing light, this will harden the bonding agent into place. After a final polish, you will be able to see the results of your new and improved smile.
Benefits of Porcelain Veneers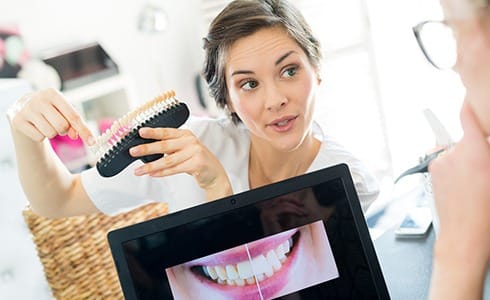 Enhanced smile aesthetics
Increase confidence in the way you look and feel
Ability to achieve results quicker than other, more complex treatments
More stain-resistant than traditional tooth enamel
A long-lasting restoration that, with proper care, can last a decade or more
A natural appearance that does not appear fake or artificial in any way