Veneers – Oklahoma City, OK
Transforming and Revitalizing Smiles
Want to be rid of the many imperfections plaguing your teeth? Looking to completely transform your smile's appearance? Guess what? You can with veneers in Oklahoma City! As a skilled cosmetic dentist, Dr. Jeffrey Hermen can place these customized restorations over your natural teeth to create a more uniform, even, and beautiful smile. You'll never have to worry about your old smile reappearing, as these unique cosmetic solutions are permanent! Ready to find out if you're eligible for treatment? Give us a call today to schedule a consultation with Dr. Hermen.
Why Choose Dr. Jeffrey Hermen for Veneers?
Versatile treatment for covering cosmetic imperfections
Custom materials used to create long-lasting, stain-resistant veneers
Highly-skilled and trained cosmetic dentist performing the application
What Are Porcelain Veneers?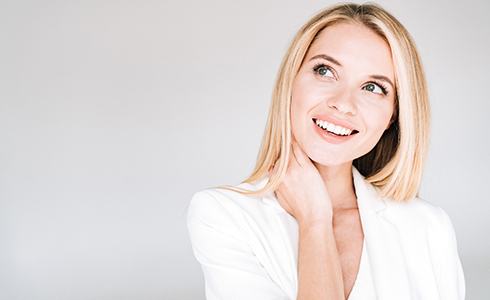 Porcelain veneers are thin shells of ceramic that are custom-made to fit over the front of your natural tooth and hide any imperfections. Considered to be one of the most popular cosmetic solutions available, many of Hollywood's elite turn to veneers are a safe and reliable way to transform smiles and create an even, more uniform aesthetic.
Veneers are custom-made based on the specifications agreed upon between you and your cosmetic dentist in Oklahoma City. This means that your veneers will be created in a way that matches the color, size, and shape you want to see in your smile.
Who is a Good Candidate for Veneers?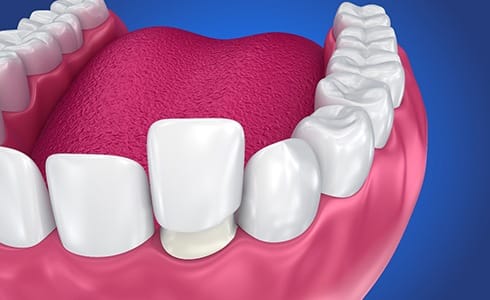 Although porcelain veneers are an available treatment for most individuals, it is necessary that you have good oral health to start. If it is discovered that you have cavities, tooth decay, or gum disease, it will be necessary for our team to treat these problems first before moving forward with veneers.
If you possess any of the following cosmetic flaws, you can feel confident that porcelain veneers might just be the right solution for you:
Chips
Cracks
Stains
Discoloration
Gapped teeth
Misshapen teeth
Crooked teeth
"Short" teeth
What is the Process for Receiving Veneers?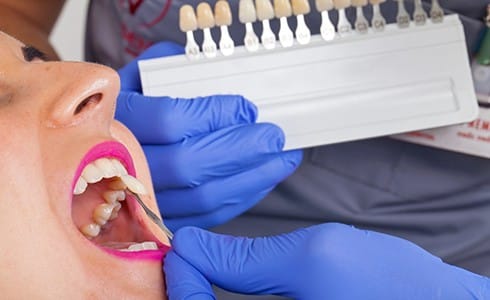 To receive porcelain veneers, you must first schedule a consultation with Dr. Hermen. During this visit, you will discuss your goals and what you would like your new smile to look like. Once he examines your teeth and determines whether you are an eligible candidate, he will recommend the appropriate number of veneers to cover your imperfections. Ultimately, it is up to you as to whether you want to cover all or only some of your teeth.
After using a shade guide to identify the proper shade for your new veneers, he will remove a small bit of enamel from each tooth to ensure the bonding agent used properly adheres the veneer to your tooth. He will then capture impressions and send them off to a dental lab. There, technicians will work to create your restorations based on the specifications provided.
After some time, you will return to have your individual veneers placed. Because it takes someone with an artistic eye and skillful hand, Dr. Hermen will carefully place each veneer onto the corresponding tooth. Using a special curing light, this will harden the bonding agent into place. After a final polish, you will be able to see the results of your new and improved smile.
Benefits of Porcelain Veneers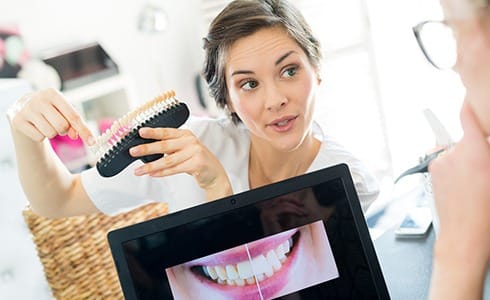 Enhanced smile aesthetics
Increase confidence in the way you look and feel
Ability to achieve results quicker than other, more complex treatments
More stain-resistant than traditional tooth enamel
A long-lasting restoration that, with proper care, can last a decade or more
A natural appearance that does not appear fake or artificial in any way
Understanding the Cost of Veneers
As with many things, you get what you pay for when it comes to veneers. Quality materials are important, especially if you want to achieve the most beautiful, lifelike smile possible. However, to achieve the results you desire, it's important to choose the right cosmetic dentistry service for you. Read on to learn more about the cost of veneers in Oklahoma City.
Cost VS Cosmetic Dentistry: What's Right for Me?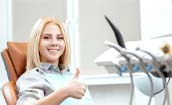 We offer a wide range of cosmetic services that vary in cost. Each treatment has its own set of unique benefits, and they can accomplish different goals for your smile. These services include:
Braces: Traditional braces can straighten your teeth into perfect alignment for dramatic results. However, this treatment costs between $5,000 to $6,000, which is a significant investment for a dental service that doesn't correct the color or shape of your teeth.
Direct bonding: An incredibly quick and affordable dental service, direct bonding is a great treatment for minor cosmetic flaws like tiny chips or reshaping a damaged tooth. That said, it must be redone every few years, plus its results are limiting if you have major cosmetic imperfections.
Teeth whitening: One of the most popular options, our cosmetic dentist in Oklahoma City can brighten your smile up to 8 shades with professional teeth whitening. While it's the easiest and least expensive solution for discoloration, it cannot correct the shape or position of your teeth.
Veneers: While veneers may not be the cheapest option, they offer the easiest way to completely transform your smile. By seamlessly covering the front surfaces of your affected teeth, they change the size, shape, and shade of your smile to your exact specifications. The best part is that this customized service can be completed in just a few short dental visits!
How to Make Veneers Affordable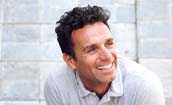 Veneers in Oklahoma City are typically not covered by dental insurance, however we offer ways to help you fit this life-changing treatment into your budget. Our friendly front desk team is always ready and willing to help you save money on dentistry. We partner with CareCredit to provide OKC patients with low-to-no interest financing options. Simply choose a payment plan that works best for you and divide your fees up to make it easy on your wallet. Please don't hesitate to contact our office for a consultation. We can't wait to help you achieve your dream smile without breaking the bank.
Veneer FAQs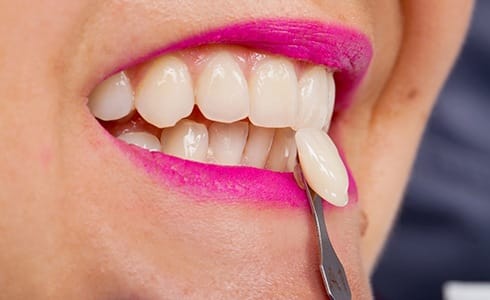 If you're unhappy with your smile, veneers in Oklahoma City are a great solution to transform your teeth. Although you're ready to give your self-esteem a boost, it's normal to have a few concerns before you're ready to commit to the treatment. We'll explain everything during your initial consultation. In the meantime, here are the answers to a few of the most common questions patients ask us about veneers.
How many veneers will I need?
You can have a veneer bonded to a single tooth, such as to fix a chip or crack; however, we often recommend more than one. You'll achieve more seamless results by attaching them to the front 2, 4, or 8 upper teeth. We'll evaluate your aesthetic imperfections and discuss your concerns to determine how many you'll need to reach your goals.
Will I need gum recontouring before veneers?
Not everyone needs gum recontouring before getting veneers, but the two procedures are often used together. Reshaping the gum line offers various benefits, like revealing more of the tooth's structure to ensure a better bond. In addition, it makes each tooth look proportion for a picture-perfect smile.
How long do veneers last?
On average, veneers last for a decade before needing to be replaced, but it's not uncommon for them to last much longer with the right aftercare. You can help protect your investment by keeping a few tips in mind:
Use a soft-bristled toothbrush and nonabrasive toothpaste to clean your teeth twice a day.
Brush all surfaces of your teeth and your veneers for at least two minutes.
Use high-quality dental floss to clean between each tooth.
Wear an athletic mouthguard if you play sports.
Don't use your teeth as tools.
Don't chew on inedible objects.
Visit your dentist at least twice a year for a cleaning and checkup.
How much do veneers cost?
There isn't a set fee for veneers because the cost is based on your individual treatment plan, such as the number of teeth being treated and if you need additional procedures. We'll provide you with an estimate during your initial consultation and explain the fees associated with your plan.
A member of our team will discuss your payment option to keep your new smile within your budget, like using third-party financing. You're given the funds for your treatment, which you'll repay using a plan that accommodates your budget.
Can I use my dental insurance?
Unfortunately, most dental insurances don't offer coverage for veneers because it's an elective treatment; however, every policy differs. If applicable, a member of our team will work on your behalf with your insurance company to maximize your benefits. We'll file the necessary claim forms for reimbursement, so you have one less thing to worry about.
How can I get started?
If you're ready to achieve the smile of your dreams, take your first step toward improved confidence by contacting our office to schedule your consultation. We'll transform your teeth and your self-esteem through the power of cosmetic dentistry.