Emergency Dentistry – Oklahoma City, OK
We're Here Right When You Need Us
No one ever plans on experiencing a dental emergency, but they happen more often than you might think! Whether it's a bad toothache or an injury due to sports or a simple trip and fall, the last thing someone wants to do while in pain is sit in a waiting room at the ER. Should you or a loved one ever need immediate dental care, just call Dr. Hermen. Our team will schedule you for an appointment right away (preferably the same day) for emergency dentistry in Oklahoma City, OK, so you can enjoy relief as quickly as possible.
Why Choose Jeffrey F. Hermen, DDS for Emergency Dentistry?
Same-Day Emergency Appointments Available
Team with Decades of Experience
Sedation Dentistry Helps Soothe Any Nerves
How to Handle Common Dental Emergencies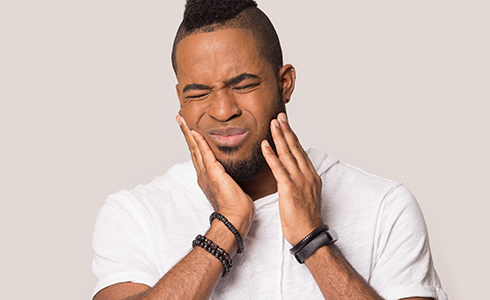 While your first instinct in the middle of a dental emergency may be to head to the ER or an urgent care clinic, it's actually best to contact Dr. Hermen first. Other facilities simply don't have the training or equipment to handle urgent dental issues. We'll likely be able to see you much faster compared to anywhere else, plus our team can offer you first-aid tips, such as: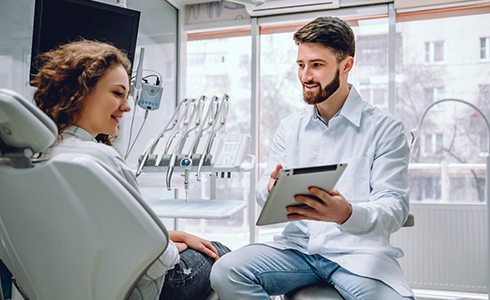 Toothaches
Is something stuck between the teeth? If so, try to remove it by rinsing and flossing. If the pain is likely due to a cavity or crack in the enamel, go ahead and take an over-the-counter medication. A cold compress can help provide some temporary relief as well. In many cases, the fastest way to fix a toothache is with root canal therapy.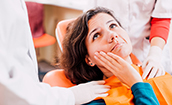 Chipped/Broken Tooth
Find as many pieces of the tooth that you can, put them in a safe container, and remember to bring them to our dental office. Use a napkin or rag to stop any bleeding, and be sure to cover the remaining tooth so it doesn't accidentally injure the inside of the mouth. An easy way to do this is to just use a piece of sugarless gum. We're able to repair most broken teeth, but in some situations, we may recommend a tooth extraction instead.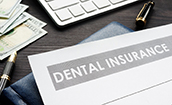 Knocked-Out Tooth
Pick up the tooth while avoiding the root, rinse off any dirt or debris, and place it under the tongue. This will keep the tooth alive until we can see you and put it back into place. This ideally should be done within an hour or so of the accident, so be sure to come see us quickly in this situation!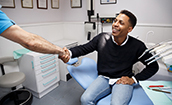 Lost Filling/Crown
After cleaning off the restoration with some water, try to place it back onto your tooth. This is just a temporary fix, and you need to come see us so it can be fully repaired. Otherwise, the tooth could develop decay, damage, and pain.
How to Prevent Dental Emergencies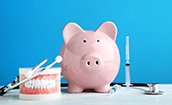 Brush and floss your teeth everyday—this will keep the enamel strong and resistant to breaking; plus it will prevent infections that could lead to toothaches.
Get at least two checkups and cleanings each year—routine exams allow us to catch small problems early and take care of them quickly.
Wear a mouthguard whenever you play sports—this is helpful whether the game involves contact or not.
Don't use your teeth to open packages—always go grab the scissors!
Avoid chewing on hard items that can wear down and break your teeth—these include things like ice, popcorn kernels, pens, pencils, and fingernails.
The Cost of Treating Dental Emergencies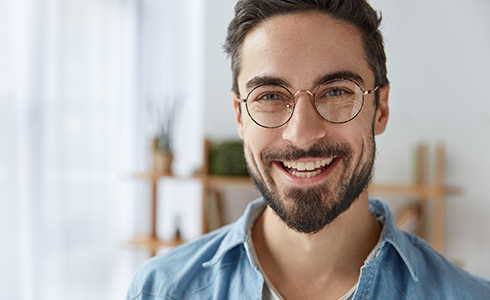 There is no one fixed cost for emergency dental treatment. The type of care a patient needs will solely depend on the nature and extent of their problem. However, seeking out treatment right away is always best for someone's health and wallet, as this usually enables us to address a problem using more conservative, less expensive procedures. To help make this type of care more affordable, we're happy to work with many insurance plans, and we offer flexible financing options as well.
Emergency Dentistry FAQs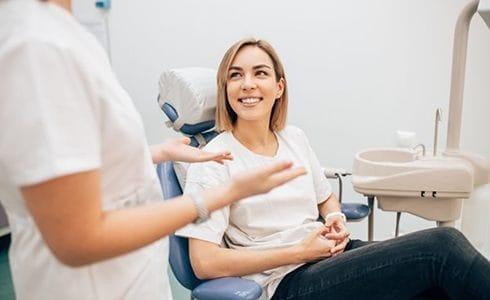 When you're suffering from a dental problem that seemingly came out of nowhere, it can be all too easy to panic, especially if you've never been in a similar situation before. When you call us, we'll explain over the phone some basic steps on how to handle your problem and soothe your nerves until you arrive at our office. Until then, it may bring you peace of mind to read through this list of emergency dentistry FAQs in Oklahoma City.
How Do I Know If I Have a True Dental Emergency?
Sometimes, it can be unclear whether pain in your mouth needs urgent attention. Severe or persistent discomfort – especially toothaches – should never be ignored, particularly if it lasts for more than two days. Other symptoms of true dental emergencies include profuse bleeding, significant breakage in a tooth, painful swelling, and a tooth that has been fully or partially knocked out.
How Can I Manage the Pain of a Dental Emergency?
Most dental emergencies result in some degree of pain, and you may need some help alleviating the discomfort until your appointment with us. Some solutions that may help include:
Topical pain reliever such as Anbesol gel
Over-the-counter pain medications (like ibuprofen or acetaminophen) as directed on the label
Cold compress (which can reduce swelling as well as pain)
Keep in mind that just because you're able to manage the pain temporarily doesn't mean you should put off scheduling an appointment with us. Pain is your body's way of letting you know that something is wrong. It couldn't hurt to have Dr. Hermen take a look at your mouth and find out how to get your smile back in tip-top shape.
How Can I Prepare for a Dental Emergency?
You may think that dental emergencies will never happen to you, but unfortunately, one out of every six Americans will experience one each year. If you find yourself in this situation, it can help immensely to be prepared ahead of time. One easy way to do that is to create a few dental emergency kits and store them in easily accessible places, such as your car's glove compartment, your bathroom cabinet, and even your desk at work. Include the following items:
Our contact information
Small container with a secure lid
Saline solution
Latex-free gloves
Gauze pads or handkerchief
Ibuprofen
Will My Toothache Get Better on Its Own?
In the vast majority of cases, dental emergencies actually worsen over time instead of getting better. Unlike other medical issues like a broken bone or the common cold, your body cannot heal broken tooth enamel or infected gum tissue on its own. The longer you go without treatment, the worse your issue will become, and the more time-consuming (and expensive) treatment you'll require. If you want to avoid increased costs and get out of pain as quickly as possible, call us right away!