Children's Dentistry – Oklahoma City, OK
Ready to Protect Your Favorite Smile
Professional dental care is essential for everyone, but this is especially true for children, as their teeth are very susceptible to developing cavities due to their softer enamel and often less than stellar brushing habits. Fortunately, getting your child's smile the attention it needs is nice and easy if you live in Northwest Oklahoma City. Dr. Hermen has decades of experience serving children of all ages, so if you want your favorite smile to stay happy and healthy as the years go by, he's here to make sure of it. To schedule their next appointment for children's dentistry in Oklahoma City, OK, contact us today.
Why Choose Jeffrey F. Hermen, DDS for Children's Dentistry?
We Treat Every Child Like They Are Our Own
Dentist with Nearly 30 Years of Experience
We're Parents, Too!
Dental Checkups & Teeth Cleanings for Kids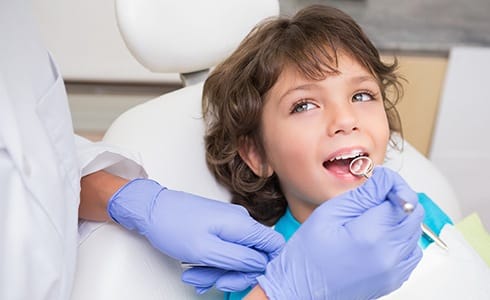 Your child should start getting checkups and cleanings around the time their first little tooth appears. Initially, these appointments will just consist of a gentle exam and advice on how to care for their growing smile, and eventually, cleanings will become part of the routine. Once your child is old enough, we'll incorporate education into every appointment as well so they can form healthy habits at home and in school as early as possible.
Dental Sealants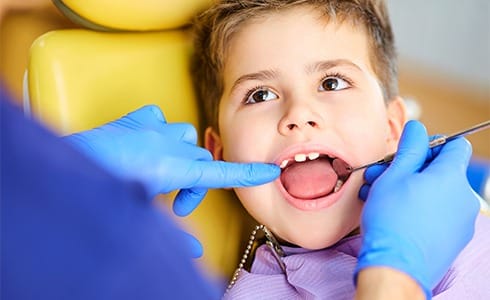 If a child is going to develop a cavity, it more often than not will be on one of their back teeth. Why? Because they easily trap plaque and tartar in their deep grooves, and they can be particularly difficult to brush for little hands. Thankfully, we can help by placing a thin layer of dental plastic over these teeth to keep them safe from anything that would do them harm. In just a few minutes, we can apply an invisible barrier to the enamel that stops decay before it even starts.
Fluoride Treatments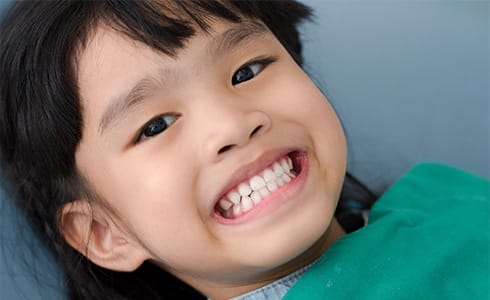 You'll find fluoride all around you if you look for it—it's added to most toothpastes, mouthwashes, and even community water sources! You'll also find it in our dental office, where we can apply it to your child's teeth to quickly fortify their enamel and make it more resistant to cavities. This treatment only takes a minute and will be a standard part of their checkups and cleanings, ensuring they have the best chance of staying healthy between dental visits.
Tooth-Colored Fillings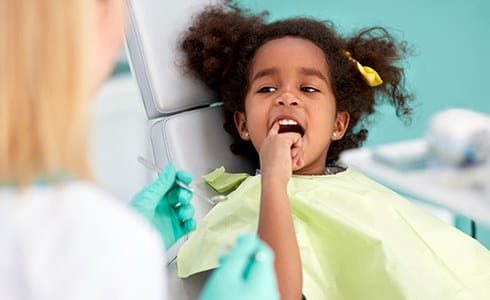 While cavity prevention is our primary goal with every child, should your little one ever develop some tooth decay, we can quickly fix it with a tooth-colored filling. Unlike traditional silver fillings, these are designed to seamlessly blend with the tooth to create a more natural-looking result. Most parents are pleased to find out that they are made of composite resin as well, which is a plastic-based material that is free of the mercury that is found in traditional fillings.
Pulp Therapy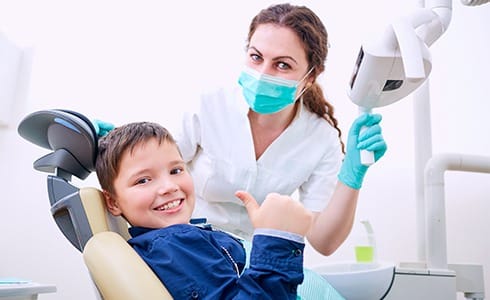 If your child takes a hard blow to the mouth, or if they develop a dental infection, both of these situations can potentially damage the inner nerve of the tooth, known as the pulp. This can lead to quite a bit of dental pain, and the tooth could even die if left untreated. With pulp therapy, we remove the internal tissue to quickly stop the pain and save the tooth from extraction. We also take special care to leave any healthy pulp behind so the tooth is able to function like normal for years to come.