Cosmetic Dentistry – Oklahoma City, OK
Dentistry with an Artist's Touch
Away from the dental office, Dr. Hermen actually likes to spend his free time oil painting. He believes that art and dentistry actually have a lot in common, in that the smallest details when it comes to shape and color can make a big difference in how something appears. His trained eye is especially helpful when enhancing our patients' smiles with cosmetic dentistry in Oklahoma City, OK. Rather than simply making your smile look like everyone else's, Dr. Hermen can use the treatments listed below to create the perfect look for you, delivering a unique and attractive result you'll be eager to show off again and again.
Why Choose Jeffrey F. Hermen, DDS for Cosmetic Dentistry?
Dentist with Nearly 30 Years of Experience
Take-Home Professional Teeth Whitening Available
Completely Personalized Smile Makeovers
Porcelain Veneers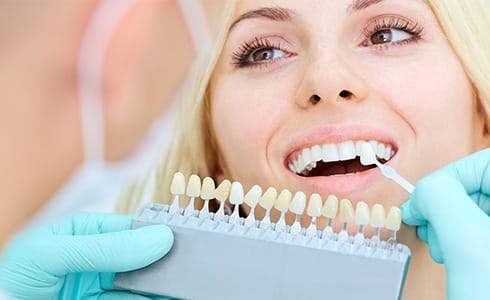 Porcelain veneers are the secret behind many of Hollywood's most stunning smiles, and now, you can get the exact same treatment and results here in Oklahoma City! Dr. Hermen can apply thin shells of ceramic to your teeth that act like masks, giving them a more uniform and attractive appearance while also covering flaws like stains, chips, cracks, and gaps. They can even help slightly crooked teeth appear straight, which is why they are often referred to as "instant orthodontics."
Metal-Free Dental Crowns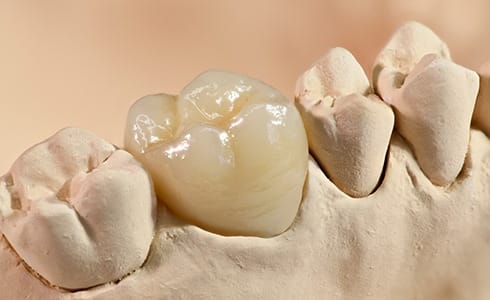 Traditionally, dental crowns are made of silver or gold, and while these materials are extremely durable, they aren't exactly natural-looking. That's why Dr. Hermen prefers to use all-ceramic E-MAX crowns, which are just as strong as regular ones, but they can be colored to perfectly replicate the overall look of a tooth as well. These enable our team to restore the smile and improve someone's appearance at the same time, making it seem like a tooth was never damaged in the first place.
Learn More About Metal-Free Dental Crowns
Cosmetic Dental Bonding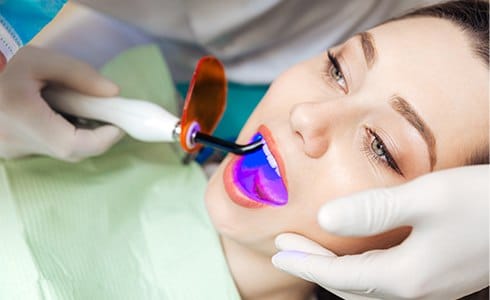 For minor flaws, like small chips, stains, and thin gaps, cosmetic bonding offers a quick and easy solution that often only takes an hour. Dr. Hermen simply applies a composite resin material to a tooth, and he uses it to literally sculpt the enamel and give it a better shape and color. Once the blemish can't be seen, he hardens the resin with a curing light, and that's it! Afterward, the resin can be trusted to last for about 10 years.
Learn More About Dental Bonding
Teeth Whitening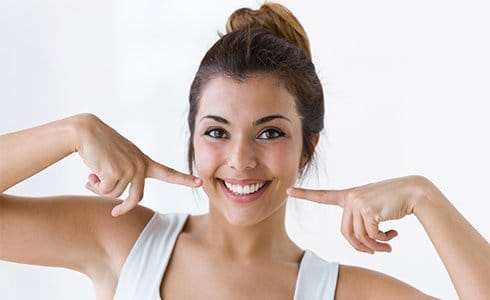 Tired of seeing dental stains caused by coffee, wine, tobacco, or natural aging in the mirror every day? We can help you make them disappear with a professional strength whitening treatment you can use right at home. We'll provide you with a Premier Perfecta Bravo kit that features mouth trays and a bleaching gel much stronger than anything you can buy on your own. After two weeks of using the kit for a few minutes a day, you'll see a smile that is six to eight shades brighter!
Learn More About Teeth Whitening
Virtual Smile Design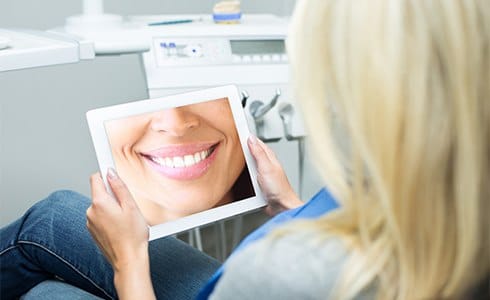 Want to see how a particular treatment will change the look of your smile before you actually get it? We can digitally edit a picture of your current smile to show you how any procedure you're interested in will affect your appearance. This approach allows you to design your ideal look right alongside Dr. Hermen, so once treatment actually begins, you'll already know you'll love your final results.
Gum Recontouring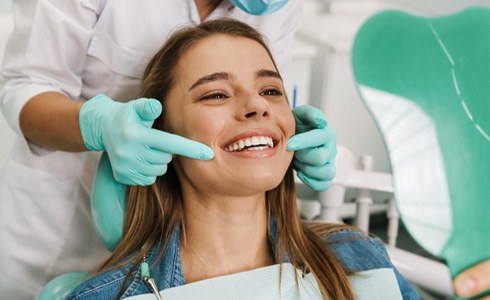 Do your teeth look overly short or "gummy"? While this isn't an issue that requires urgent care, it can make you unhappy with your smile. Fortunately, a natural gum line that isn't at a proper level can easily be corrected with an aesthetic gum recontouring procedure! Dr. Hermen will comfortably and precisely eliminate excessive gum tissue from the mouth along with any noticeable symmetrical flaws. Afterward, you'll be able to smile with full confidence!
Learn More About Gum Recontouring
Smile Makeover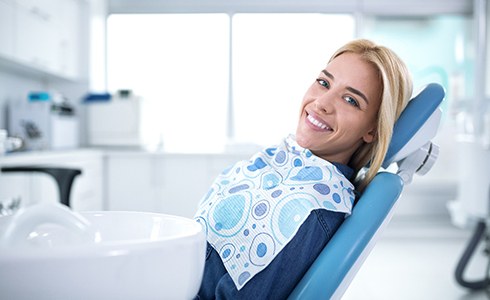 Advancements in the dental field are always making the patient experience better, and there's no exception when it comes to cosmetic dentistry. When you want to achieve your smile goals but you have several issues that you need to address at a time, a smile makeover can be the perfect way to start your journey to your dream appearance! Our office can provide many cosmetic enhancements as part of one larger treatment plan, so you can leave feeling completely satisfied with your new appearance.
Learn More About Smile Makeovers
Cosmetic Dentistry FAQs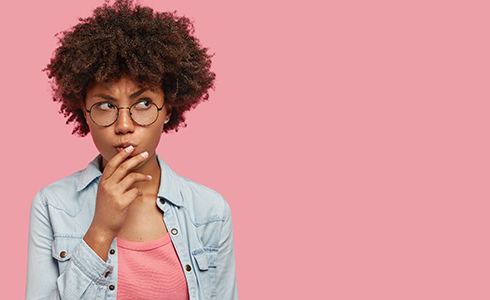 Dr. Hermen is proud to offer cosmetic dentistry with an artist's touch so you can achieve the beautiful smile you've always wanted. For your convenience, we've gathered some of the most common questions we get about cosmetic dentistry below. If you don't see the answers you're looking for or would like to schedule your consultation, don't hesitate to give us a call today!
How Can I Tell Which Treatment Is Right for Me?
With so many versatile services to choose from, it can be somewhat difficult to determine the one that will best correct your cosmetic flaws. If you want a prettier smile, your first step should be to schedule a consultation with your Oklahoma City cosmetic dentist Dr. Hermen. Not only will he carefully listen to your goals and give you personal recommendations, but he can help you see the results of each treatment before you get it! With a virtual smile design, we can digitally edit a picture of your current smile to show how different services will affect your appearance. This way, when your treatment begins, you'll already know that you're going to love the final results!
Am I A Good Candidate for Cosmetic Dentistry?
Nearly anyone can improve their pearly whites with cosmetic dentistry! However, you may need to complete some preliminary treatments to become an ideal candidate. Oral health issues like tooth decay, gum disease, and teeth grinding can hinder the success of some cosmetic treatments, so they'll need to be addressed first. Once your smile is healthy, we can move on to improving its appearance.
How Long Will It Take to Improve My Smile? How Long Will the Results Last?
Just like how every smile is unique, every cosmetic treatment will depend on the unique needs of the patient. Some services can be completed in a single easy visit. However, more custom-made solutions like porcelain veneers and dental crowns may require a few appointments over the course of several days to be designed, created, and placed.
Similarly, the results of different treatments have different lifespans. While they should all last you for many years to come, some will need to be repaired, replaced, or touched-up over time. However, practicing excellent oral hygiene is a great way to ensure you get the most out of your results.
Is Cosmetic Dentistry Expensive?
Every dental insurance policy is different, so there isn't a single answer to this question. Some insurance companies will pay for a portion of your treatment, but most don't cover the cost of cosmetic services. Feel free to bring your dental insurance paperwork with you to your consultation and we'll be happy to review the details with you. To help make your treatment as affordable as possible, we also offer financing options through CareCredit. These plans will allow you to break up the cost of your treatment into easy payments that fit into your monthly budget. Our experienced and compassionate dental team will be happy to help you discover just how affordable achieving the smile of your dreams can be!
If you're ready to improve your smile, or if you have more questions, don't hesitate to contact Dr. Hermen today!