Dental Implants – Oklahoma City, OK
Rebuild Your Smile For Life
Does tooth loss make your life a little more difficult every single day? Do your missing teeth force you to avoid certain words, certain foods, and smiling around friends and family? If so, then Dr. Hermen is ready to offer the ultimate solution: dental implants. Rather than simply replacing a tooth aesthetically, implants rebuild a tooth from the root up, leading to a superior look, strength, and durability when compared to any other treatment. If you're ready to put your tooth loss behind you for good, contact us today to learn more about dental implants in Oklahoma City, OK.
Why Choose Jeffrey F. Hermen, DDS for Dental Implants?
Committed to Perfection for Nearly 30 Years
Takes Extra Time When Designing & Placing Restorations
Won't Stop Until a Patient is 100% Satisfied
What is a Dental Implant?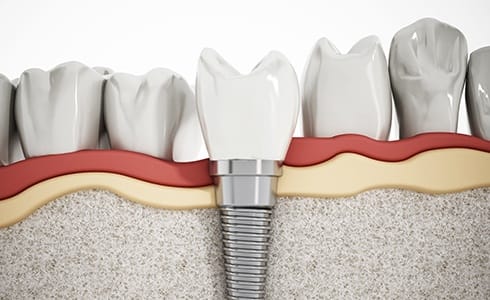 Instead of being a prosthetic tooth that just sits on top of the gums, a dental implant is actually an artificial tooth root that is placed directly into the jawbone. Made of biocompatible titanium, it actually bonds with the surrounding bone just like a real root, and this is used to support a crown, bridge, or denture above the gum line. Basically, implanted teeth are built just like real teeth, which is why they look and feel so natural!
Benefits of Dental Implants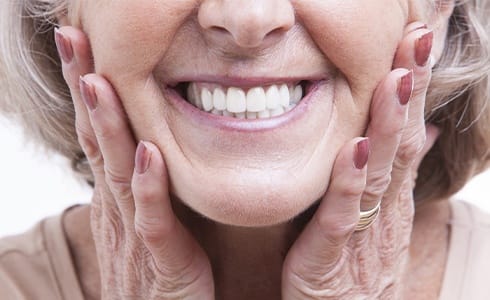 Strength: Implanted teeth are rooted within the jawbone, which enables a patient to eat whatever they like without their replacements slipping or moving.
Lifelike: If you were to look at an implanted tooth right next to a natural one, you wouldn't be able to tell the difference!
Jawbone Health: Once in place, implant roots actually support the jawbone from the inside, increasing blood flow and tissue growth in the area. This prevents the bone loss that usually occurs after tooth loss, which helps protect the remaining teeth.
Easy Care: Unlike a removable bridge or denture that requires its own special hygiene routine, implants just need to be brushed and flossed like real teeth to last for decades. Speaking of which…
Longevity: On average, a traditional bridge or denture should last about seven to 10 years. Implants, on the other hand, have been shown to last for 30+ years, making them a one-time investment for most patients.
Are Dental Implants Right for You?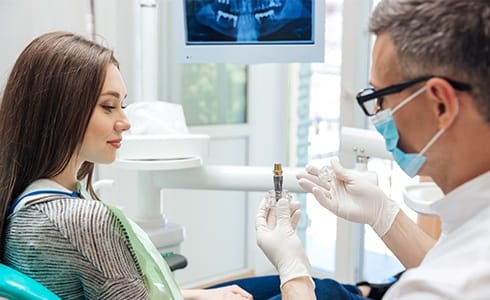 Can implants help patients missing one tooth, multiple teeth, or even all of their teeth? With Dr. Hermen, the answer is a resounding YES. No matter your degree of tooth loss, he can design an implant treatment to give you a full and confident smile again: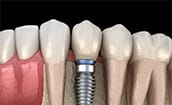 Missing Single Tooth
A dental implant root can be placed between two healthy teeth without disturbing them at all, and then it will be topped with a custom-made crown. Unlike a bridge, this new tooth won't "lean" on the surrounding teeth for support, leading to a more comfortable fit.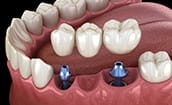 Missing Multiple Teeth
Partial dentures and bridges have been used to replace multiple teeth using a single prosthetic for generations, and now, they can be secured to the jawbone with dental implants, giving them a strength that better resembles natural teeth.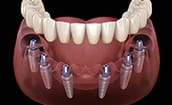 Missing All Teeth
A full denture can be anchored to the jawbone using just four to six strategically placed implants. Compared to removable dentures, implant dentures are smaller, last longer, and bring back much more of a patient's bite strength, allowing them to chew a wider variety of foods and enjoy a healthier diet.
How Dental Implants Work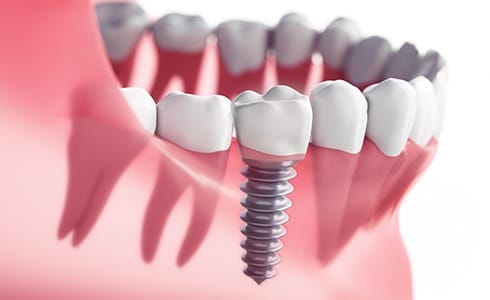 When you come to get dental implants with Dr. Hermen, he'll start by giving you an exam and taking a few X-rays. If you both decide that implants would be the best solution for you, he'll refer you to an oral surgeon so your implant roots can be safely placed into your jawbone. You'll then be given time to heal, during which your implant roots will bond with the bone. After a few months, you'll return to Dr. Hermen so he can attach your custom-made restorations to the implants. At that point, your new smile will be ready for the world.
Understanding the Cost of Dental Implants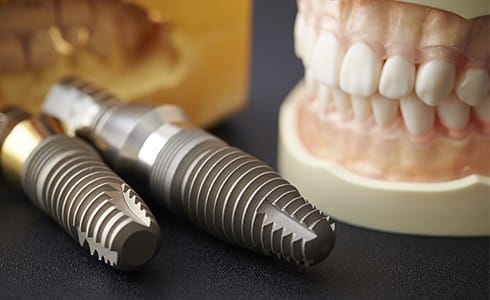 Every dental implant treatment is highly personalized, so the cost is always different from patient to patient depending on a number of factors. These include how many implants are needed, what type of restoration is used, and whether or not any procedures need to be performed before the new roots are placed (like tooth extractions or treatment for gum disease).
While implants may seem to cost a lot more compared to regular bridges and dentures, they actually help patients save money in the long run because they last for multiple decades, meaning patients don't have to periodically redo their treatment.