Dental Implants – Oklahoma City, OK
Rebuild Your Smile for Life
Does tooth loss make your life a little more difficult every single day? Do your missing teeth force you to avoid certain words, certain foods, and smiling around friends and family? If so, then Dr. Jeffrey Hermen is ready to offer the ultimate solution: dental implants. Rather than simply replacing a tooth aesthetically, dental implants rebuild a tooth from the root up, leading to a superior look, strength, and durability when compared to any other treatment. If you're ready to put your tooth loss behind you for good, contact us today to learn more about dental implants in Oklahoma City, OK.
Why Choose Jeffrey F. Hermen, DDS for Dental Implants?
Partnered with Trusted Oral Surgeons for Optimal Results
Dentist with 30 Years of Experience
Fair, Reasonable Prices with No Hidden Fees
What Are Dental Implants?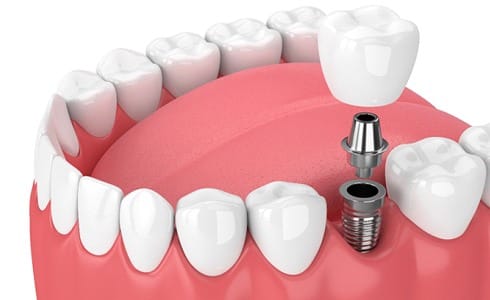 Instead of being a prosthetic tooth that just sits on top of the gums, a dental implant is an artificial tooth root that is placed directly into the jawbone. Made of biocompatible titanium, it actually bonds with the surrounding bone just like a real root, and this is used to support a crown, bridge, or denture above the gum line. Basically, implanted teeth are built just like real teeth, which is why they look and feel so natural!
The 4-Step Dental Implant Process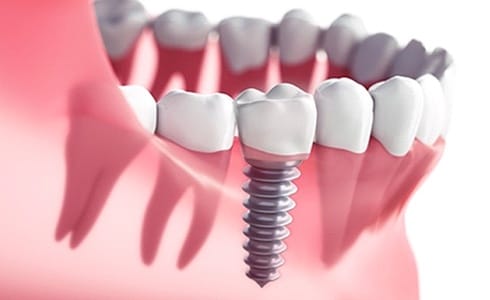 Rebuilding your pearly whites from the roots up requires a more complex process than simply taking impressions and fitting you for a denture or dental bridge. That's why the dental implant process can take multiple steps over the course of several months to a year. However, once your implants have been placed by a trusted oral surgeon and restored by Dr. Hermen, you can expect them to last for decades or even a lifetime with the right care!
With that said, you might be wondering exactly how dental implants work in Oklahoma City. Each patient's dental implant treatment is going to look a bit different, but four basic steps remain: the initial consultation, implant placement surgery, osseointegration, and the delivery of your final restorations.
Benefits of Dental Implants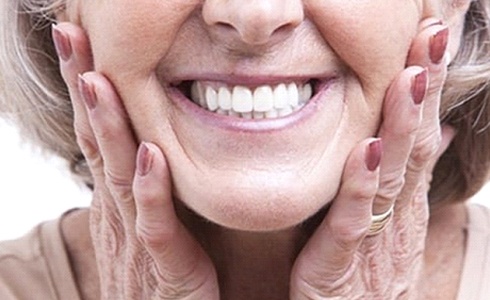 Thanks to their unique placement within the jaw, dental implants are able to provide a variety of advantages over more traditional tooth replacements. Most dentists consider them to be the gold standard when it comes to rebuilding smiles after tooth loss. From making it easier to smile and eat with confidence, to promoting better oral health, it's no wonder dental implants are becoming increasingly popular! In fact, it is believed that 3 million people in the U.S. are living with these permanent prosthetics and the number is increasing by 500,000 each year! If you're ready to learn more about the benefits of dental implants in Oklahoma City, take a look at what you can expect once you receive your new smile.
Who Dental Implants Can Help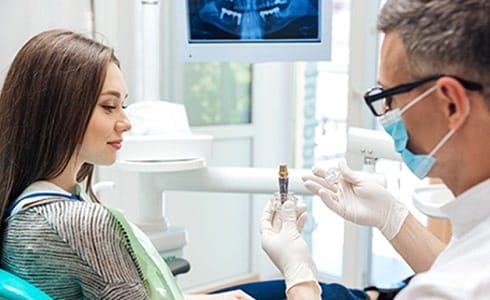 Curios whether dental implants are right for you? While the only way to know for sure is to attend a consultation with your implant dentist in Oklahoma City, most healthy adults are eligible for this procedure. No matter how many teeth you've lost, Dr. Hermen can create a treatment plan for you, which may include preliminary procedures designed to increase your chances of implant success.
Understanding the Cost of Dental Implants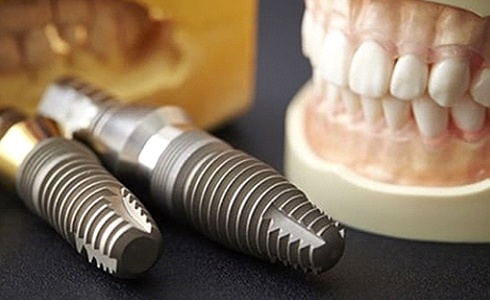 Every treatment is highly personalized, so the cost of dental implants in Oklahoma City is always different from patient to patient depending on a number of factors. These include how many implants are needed, what type of restoration is used, and whether or not any procedures need to be performed before the new roots are placed (like tooth extractions or gum disease therapy). Dr. Hermen will go over the details of your treatment, including pricing information, during your consultation. We'll also come up with ways to help you fit the price of your new and improved smile into your budget.
Dental Implant FAQs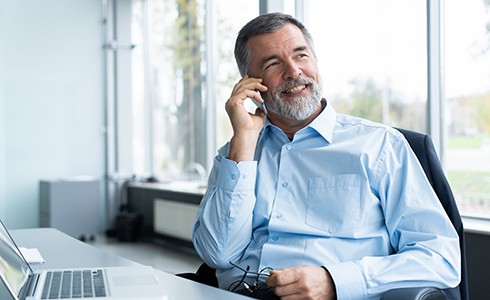 The dental implant treatment process is a complex one. As such, it's understandable to have a few questions you need answered before you begin. Rest assured that Dr. Hermen can address all of your concerns and set your mind at ease during your consultation. In the meantime, though, it may help to read through this list of frequently asked dental implant questions.
Maintaining & Caring For Your Dental Implants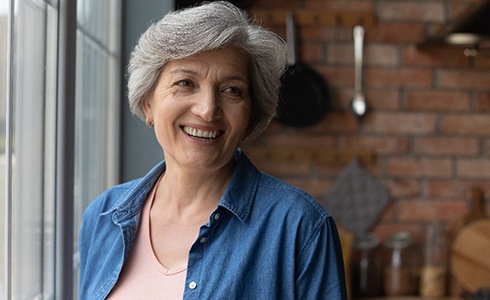 Dental implant care in Oklahoma City is key if you want to ensure that your dental implants remain firmly in place for as long as possible. Designed to withstand the pressure of daily tasks (i.e., eating, speaking), you must adhere to the instructions provided by your dentist to avoid problems with gum disease or damage. By agreeing to commit to better oral hygiene, breaking bad habits, and continuing to see your dentist every six months for dental checkups and cleanings, you can put yourself on a clear path to enjoying your dental implants for years to come. Contact us today to schedule an appointment if you would like to learn more.