Dentures – Oklahoma City, OK
A Custom-Made Solution to Missing Teeth
When you think of a way to replace missing teeth, dentures are probably the first solution to pop into your head. After all, they are a popular way to restore a patients' smile that has been subjected to tooth loss. While you may have heard your grandparents complaining about their uncomfortable and ill-fitting dentures, today's dentures are designed with your comfort in mind. Dr. Jeffrey Hermen won't rest until he creates the perfect set of new pearly whites for you. To learn more about dentures in Oklahoma City and how they can benefit you, keep reading below.
Why Choose Jeffrey Hermen, D. D. S. for Dentures?
Every Restoration Custom-Designed for Each Patient
Can Replace Any Number of Missing Teeth
Takes Time and Effort to Deliver Excellent Results
Types of Dentures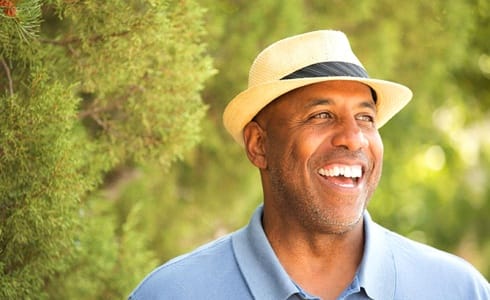 No matter how big the gap in your smile is, we can use dentures to provide a custom-made solution to missing teeth. Depending on your oral health needs, we may use one of the following three types of dentures:
Full Dentures
A full denture is typically what you think of when someone talks about dentures. When a patient is missing all of their teeth on their top and/or bottom arch, we can replace them all at once with a full denture. This restoration consists of a gum-colored acrylic base with an entire arch of false teeth attached. It stays in place thanks to a natural suction against your gums. For a little extra help, you could also use a denture adhesive.
Partial Dentures
If you still have some remaining pearly whites, we can craft a partial denture. Also known as partials, partial dentures are made by attaching as many artificial teeth as you need onto a metal framework. This framework clasps behind your natural teeth, allowing the restorations to fit within your smile like a missing puzzle piece.
Implant-Retained Dentures
For more secure, long-lasting dentures, we can anchor them onto dental implants. Several of these titanium posts are surgically placed into your jaw. After you have recovered, we can restore your implants with either a full or partial denture.
Normally, when teeth are lost, the jawbone starts to deteriorate because the tooth roots are no longer there to stimulate it. Dental implants solve this problem by promoting bone growth, preventing problems related to bone loss such as the drooping and wrinkling of facial muscles. Not only do implant-retained dentures last much longer than their traditional counterparts, they keep you looking young for years to come!
Benefits of Dentures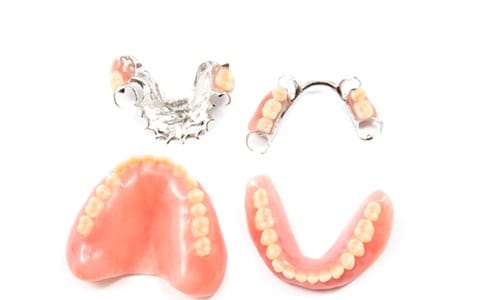 Some of the many advantages of replacing missing teeth with dentures include:
Increased confidence. When you have gaps in your grin, smiling confidently can be difficult. Dentures can boost your self-esteem, helping you succeed in both your personal and professional life.
Although your false teeth will need to be replaced eventually, you can extend their lifespan to up to a decade with proper maintenance.
Natural appearance. Detailed impressions are taken to ensure your dentures look like the smile you were born with.
Improved quality of life. No longer will you have embarrassing moments when trying to eat or speak with missing teeth. In addition, you can enjoy a varied diet of healthy, crunchy foods again.
Am I a Good Candidate for Dentures?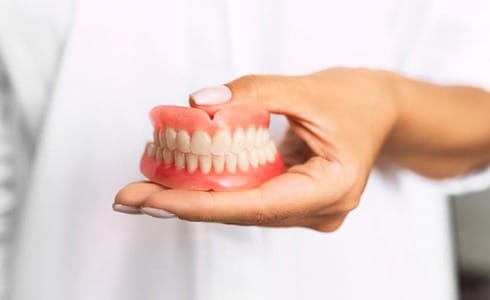 Generally, dentures are the best option to replace multiple missing teeth at once. However, we ask that your mouth be infection-free before placing them. For this reason, you may need to undergo gum disease treatment beforehand.
To be a candidate for implant-retained dentures, you must have a sturdy enough jawbone capable of supporting several implants. If that's not the case, don't worry. You might just have to receive a bone grafting procedure to strengthen the bone.
Are you missing teeth in Oklahoma City? We can help with that. Contact us today to schedule your consultation for dentures!
Understanding the Cost of Dentures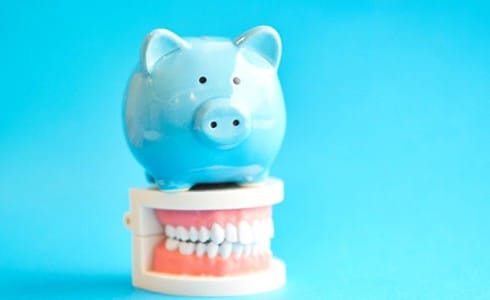 Besides being one of the most classic forms of tooth replacement, dentures are also among the most affordable. That said, the cost of dentures in Oklahoma City can vary greatly from patient to patient based on numerous factors. Our team will discuss the price associated with your dentures as well as your payment options. We strive to help you easily afford your new smile!
Factors That Affect the Cost of Dentures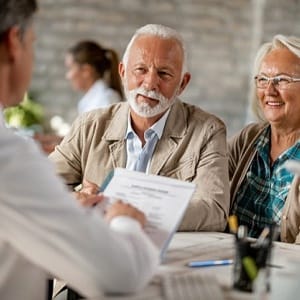 The cost of your dentures may be influenced by factors, such as:
Type of denture – Because full dentures require more material, they tend to come with a higher price tag than partials. Your denture's base and replacement teeth may also be made of various materials, like porcelain or acrylic, that affect the cost. If you're eligible for more than one type of denture, your denture dentist in Oklahoma City will help you navigate the pros and cons of each option.
Preliminary work – Some patients need to undergo certain procedures, such as tooth extractions or gum disease therapy, to prepare their mouths to receive dentures. While these procedures create a healthy foundation for your dentures, they also increase your overall treatment cost.
Are Implant Dentures More Expensive?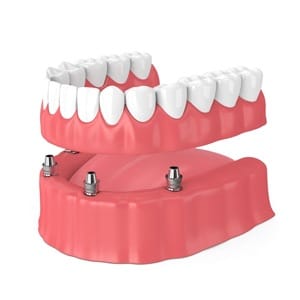 Compared to traditional dentures, implant dentures carry a higher up-front cost. That's because you must pay for dental implants as well as the placement surgery. However, it's important to consider their long-term value.
A conventional full or partial denture will need to be replaced every five to seven years on average. Over time, they might end up compounding their original lower price. In contrast, implant dentures can last for several decades if you take good care of them. They also offer more reliability than their traditional counterparts, making them a wise investment for most patients.
Does Dental Insurance Cover Dentures?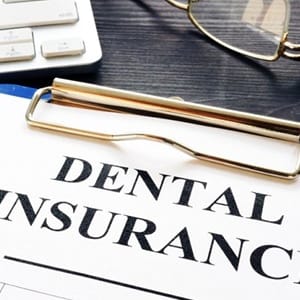 Most dental insurance providers consider dentures to be a major restorative procedure. This means that once you've paid your deductible, your insurance will usually cover around 50% of the cost until you meet your annual maximum. For most patients, this can reduce their out-of-pocket expenses by hundreds of dollars, if not a thousand or more. If you choose to get implant dentures in Oklahoma City, know that insurance will likely not cover dental implants, but it may mitigate the cost of the denture itself.
Our practice welcomes most PPO dental insurance plans, and we're even in-network with HealthChoice, Delta Dental, BlueCross BlueShield, and more. We can help you understand the ins and outs of your plan to ensure you're getting the most of your benefits.
Other Options for Making Dentures Affordable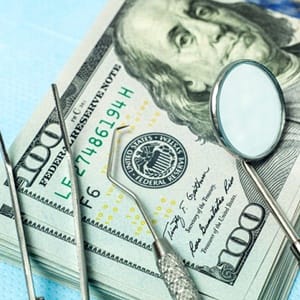 In addition to maximizing your insurance benefits, we have partnered with CareCredit to make dentures more accessible. This third-party lending company offers several types of flexible payment plans, many of which come with little to no interest for qualified patients. Ask our team to help you apply for one these plans today!
Denture FAQs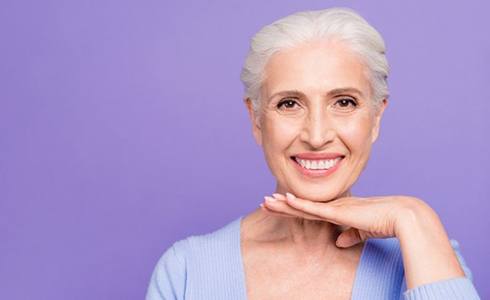 If you're looking for a custom-made solution to missing teeth, dentures are a classic and reliable choice. Even though dentures are a popular tooth replacement option, it's natural to have some questions about them. For your convenience, we've gathered a few of the most common denture FAQs in Oklahoma City to help you feel more informed. If you don't see the answer you're looking for, don't hesitate to give us a call and we'll be more than happy to help.
I'm Interested in Dentures—Where Do I Start?
Your first step towards regaining a complete, confident smile should be scheduling a consultation with Dr. Hermen. During this initial consultation, he'll carefully listen to your smile goals and address any concerns you may have. Then, he'll review your medical history and inspect your mouth. If dentures are a good choice for you, he'll fully explain all your options as well as his recommendations. However, if he detects issues like tooth decay or gum disease, we'll work with you to create a plan for getting your oral health back on track. Once your mouth is healthy, you'll be ready to start your journey towards your brand-new smile!
Will I Be Able to Eat Normally with Dentures?
Dentures can help replace your missing teeth right away, but they do take some time and practice to get used to. At first, eating may feel strange as you navigate how to chew and bite with your new teeth. We recommend using a small dab of denture adhesive and starting with a diet of soft, nutritious foods. As you become more comfortable eating with your dentures, you can gradually progress onto stickier and crunchier meals. With enough practice, you'll eventually be able to comfortably enjoy most all of your favorite foods. For most patients, this process typically takes a month or so.
How Are Dentures Cared For?
Even though your dentures won't be at risk of developing tooth decay like natural teeth, it's still important that you keep them clean. Allowing plaque and food debris to build up on them can cause bad breath and discoloration, as well as increase your risk of serious oral health issues.
Your normal toothbrush and toothpaste are too abrasive and can scratch away at your dentures. Instead, use soft-bristled denture brushes at least once a day to clean off your dentures. You should also soak them every night in denture cleaning solution or plain, room-temperature water to wash out every nook and cranny.
How Long Do Dentures Last?
With the help of modern dental materials and technology, dentures are able to last longer than ever before. We precisely craft every denture out of durable, lifelike materials for long-lasting results. With the proper care, you can typically expect your dentures to last anywhere from 5 to 10 years before they need to be readjusted or replaced.
However, implant-retained dentures offer a much more permanent solution to missing teeth. Thanks to their firm foundation in the jaw, they can stay securely in place for 30 years or more. In fact, with great oral hygiene and healthy chewing habits, you can easily expect to enjoy your implant-retained dentures for the rest of your life!
If you're ready to replace your missing teeth and regain a confident smile, give Dr. Hermen a call today!
Can You Kiss with Dentures?
Absolutely! Dentures are extremely lifelike in look and feel, ensuring that they won't stop you from smiling, chewing, speaking, and yes, kissing. It is important, however, to take it slow and be gentle at first. After all, you don't want to accidentally bump your partner's lips or tongue with your dentures.
Should I Have All My Teeth Pulled to Get Dentures?
For our team, priority number one is first and foremost to save your natural teeth whenever possible. Unfortunately, that's not always possible, like when the tooth has sustained extensive decay or damage. So, it is possible that the best choice for your smile and your wallet is to have all of your remaining teeth extracted before getting braces. Don't worry – our denture dentist in Oklahoma City can review all of your options fully following your initial exam.
Will It Hurt to Get Dentures?
Thanks to powerful numbing agents and prescribed pain medicine, getting teeth extracted is as pain-free as possible. When it comes time to wear your dentures, however, you may experience some discomfort. After all, your gums need some time to adjust to the new appliance. It's important to wear your dentures as much as possible during this time. If the pain persists, then be sure to get in touch.
Is It Hard to Talk with Dentures?
As mentioned above, it's natural for there to be a slight learning curve when it comes to eating, kissing, and talking with dentures. If you're having some trouble, priority number one is to take a deep breath and be patient. When you're ready to practice, bite down on your dentures to secure them in place and swallow (this will remove any excess saliva that can muddle your speech). If needed, add some denture adhesive for extra security. Next, speak slowly, taking the time to really enunciate each word. This will give your tongue time to adjust to your dentures. Lastly, practice, practice, practice! When you do come across a word that is more difficult to pronounce, repeat it several times.