Dentures – Oklahoma City, OK
A Custom-Made Solution to Missing Teeth
When you think of a way to replace missing teeth, dentures are probably the first solution to pop into your head. After all, they are a popular way to restore a patients' smile that has been subjected to tooth loss. While you may have heard your grandparents complaining about their uncomfortable and ill-fitting dentures, today's dentures are designed with your comfort in mind. Dr. Jeffrey Hermen won't rest until he creates the perfect set of new pearly whites for you. To learn more about dentures in Oklahoma City and how they can benefit you, keep reading below.
Why Choose Jeffrey Hermen, D. D. S. for Dentures?
Every Restoration Custom-Designed for Each Patient
Can Replace Any Number of Missing Teeth
Takes Time and Effort to Deliver Excellent Results
Types of Dentures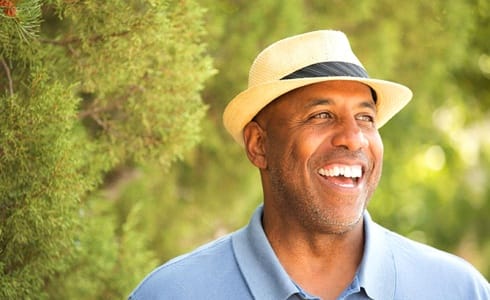 No matter how big the gap in your smile is, we can use dentures to provide a custom-made solution to missing teeth. Depending on your oral health needs, we may use one of the following three types of dentures:
Full Dentures
A full denture is typically what you think of when someone talks about dentures. When a patient is missing all of their teeth on their top and/or bottom arch, we can replace them all at once with a full denture. This restoration consists of a gum-colored acrylic base with an entire arch of false teeth attached. It stays in place thanks to a natural suction against your gums. For a little extra help, you could also use a denture adhesive.
Partial Dentures
If you still have some remaining pearly whites, we can craft a partial denture. Also known as partials, partial dentures are made by attaching as many artificial teeth as you need onto a metal framework. This framework clasps behind your natural teeth, allowing the restorations to fit within your smile like a missing puzzle piece.
Implant-Retained Dentures
For more secure, long-lasting dentures, we can anchor them onto dental implants. Several of these titanium posts are surgically placed into your jaw. After you have recovered, we can restore your implants with either a full or partial denture.
Normally, when teeth are lost, the jawbone starts to deteriorate because the tooth roots are no longer there to stimulate it. Dental implants solve this problem by promoting bone growth, preventing problems related to bone loss such as the drooping and wrinkling of facial muscles. Not only do implant-retained dentures last much longer than their traditional counterparts, they keep you looking young for years to come!
Benefits of Dentures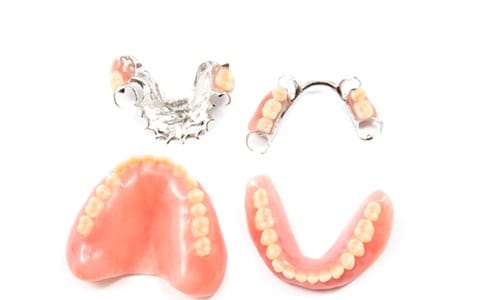 Some of the many advantages of replacing missing teeth with dentures include:
Increased confidence. When you have gaps in your grin, smiling confidently can be difficult. Dentures can boost your self-esteem, helping you succeed in both your personal and professional life.
Although your false teeth will need to be replaced eventually, you can extend their lifespan to up to a decade with proper maintenance.
Natural appearance. Detailed impressions are taken to ensure your dentures look like the smile you were born with.
Improved quality of life. No longer will you have embarrassing moments when trying to eat or speak with missing teeth. In addition, you can enjoy a varied diet of healthy, crunchy foods again.
Am I a Good Candidate for Dentures?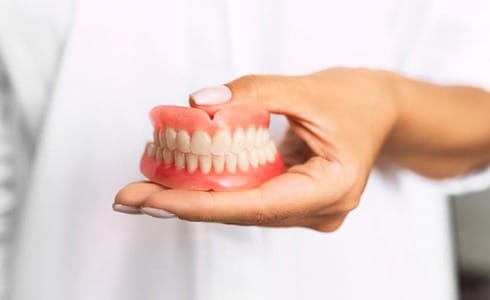 Generally, dentures are the best option to replace multiple missing teeth at once. However, we ask that your mouth be infection-free before placing them. For this reason, you may need to undergo gum disease treatment beforehand.
To be a candidate for implant-retained dentures, you must have a sturdy enough jawbone capable of supporting several implants. If that's not the case, don't worry. You might just have to receive a bone grafting procedure to strengthen the bone.
Are you missing teeth in Oklahoma City? We can help with that. Contact us today to schedule your consultation for dentures!