Sedation Dentistry – Oklahoma City, OK
No More Stressful Dental Visits
Does going to the dentist cause you or your child to feel anxious? If so, our team would like to know, and that's because we can help put these nerves to rest with sedation dentistry. This approach can help even the most fearful patient feel fully relaxed during any procedure, removing a sizeable barrier between someone and their needed dental care. To learn more about our options for sedation dentistry in Oklahoma City, OK and which one might be best for you or your child, contact us today.
Why Choose Jeffrey F. Hermen, DDS for Sedation Dentistry?
Nitrous Oxide: Gentle Enough for Children, Strong Enough for Adults
Friendly & Highly Experienced Team
Patient Comfort Always Comes First
Nitrous Oxide Sedation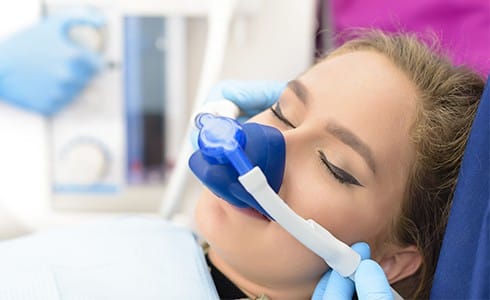 Nitrous oxide is a light and gentle form of dental sedation, and you probably are more familiar with its nickname "laughing gas." It's been use in dentistry for decades to help patients feel more relaxed and comfortable in the dental chair. Patients of all ages can benefit from nitrous oxide sedation, and almost anyone is considered a good candidate for it. Best of all, there are no lasting side-effects once the nitrous oxide wears off, so you'll be free to drive yourself home and carry on with your day as usual! Read on to learn more about nitrous oxide sedation, and give us a call today to discover if it's right for you.