Invisalign – Oklahoma City, OK
Virtually Invisible Orthodontic Treatment
Have you wanted to straighten your teeth for years, but you've avoided doing so because you didn't want to be stuck in metal braces? Or, do you have an image-conscious teen at home who needs braces, but they would literally die if you made them get bulky metal brackets and wires? If either situation sounds familiar, then Invisalign may be exactly what you need. It allows a patient to straighten their teeth without sacrificing their daily appearance in the process, and now, you can get Invisalign clear braces in Oklahoma City with Dr. Jeffrey Hermen. To get started with this virtually invisible orthodontic treatment, request a free consultation today!
Why Choose Jeffrey F. Hermen, DDS for Invisalign® Clear Braces?
Seamless Appearance No One Will Notice
Treatment Specially Designed for Each Patient
Preview Your Final Results with Digital Imaging
How Invisalign Works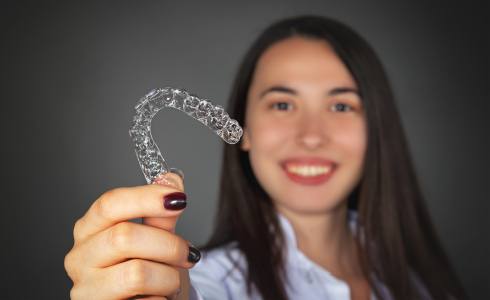 So how does Invisalign actually work? Just like traditional braces, it uses slight pressure to shift the teeth, but instead of having brackets and wires apply this pressure, a patient just wears a progressive series of clear plastic aligner trays. Each one slips over the teeth and is shaped in such a way that it guides the teeth into their new positions. A patient typically wears a single set of trays for about two weeks for 22 hours a day before switching to the next in the series. Once all of the trays have been worn, a patient should see a perfectly straight smile in the mirror.
Indications for Invisalign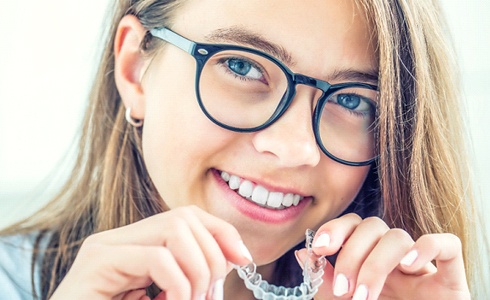 Invisalign is able to correct a wide variety of alignment issues. Here are some of the most common ones:
Crowded Teeth
When teeth are crowded or overlapping each other, Invisalign is a great solution. Clear aligners apply gentle pressure to different parts of the teeth to shift them to a more aligned position. This can help to prevent problems, like cavities and periodontal disease, that are common in people with overcrowding.
Gaps Between Teeth
If teeth are too far apart, gaps become visible. They also put you at higher risk for oral health problems and tooth damage. This is because food debris and plaque become easily trapped and more difficult to remove. Invisalign can move your teeth to be the perfect distance apart.
Bite Alignment
Teeth that aren't aligned quite right can cause problems. This includes temporomandibular joint (TMJ) disorder and bruxism (teeth clenching and grinding). Invisalign is effective when it comes to correcting overbites, underbites, crossbites, and many more.
The Benefits of Invisalign
If it is determined that you make a good candidate for the procedure, here are a few of the awesome benefits that you can expect to experience for yourself:
Comfort: No brackets and wires mean no soft tissue irritation. Occasional discomfort is normal, but it doesn't last long and is easy to manage. You can even start a new set of aligners before you go to bed so you can sleep through the initial soreness.
No Eating Restrictions: As long as you remove your aligners beforehand and brush and floss your teeth before putting them back in, you can eat any of your favorite foods!
Discreet: Clear aligners are nearly undetectable, so no one will even be able to tell that you're wearing them!
Invisalign® Teen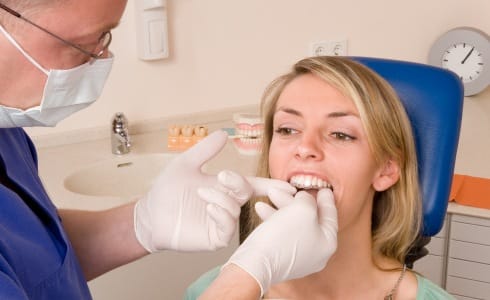 Because of its subtle appearance, Invisalign is perfect for busy adults, and it's also ideal for teens. With Invisalign TEEN, each tray has a small dot towards the back that slowly fades as it is worn. This helps a teen and their parents make sure the trays are being worn as much as they should. The treatment also includes six free replacement trays in case one is ever lost or broken, which is plenty for even the most forgetful or clumsy teen.
iTero® Digital Impressions & Imaging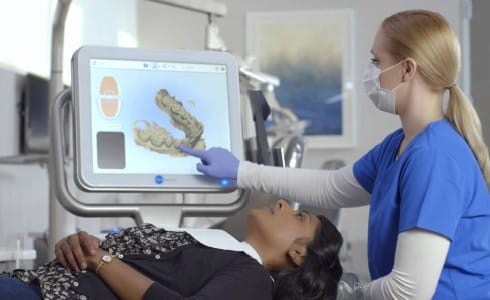 In order to create an Invisalign treatment that is both comfortable and effective, Dr. Hermen will begin the process by taking a digital impression of the teeth with our iTero scanner. This impression will help him put together a patient's particular care plan, and this technology also allows him to show someone what their smile will look like at the end of treatment, helping a patient become excited about the results to come.
Understanding the Cost of Invisalign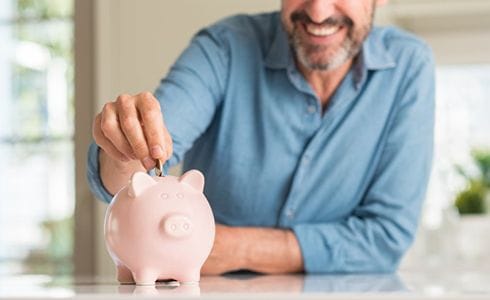 There isn't really a set cost of using Invisalign to straighten teeth in Oklahoma City. No two Invisalign treatments are exactly alike, so the specific amount of money you'll be responsible for will vary based on your individual case. We'll be sure to review your cost during your consultation, as well as go over our options for helping Invisalign fit comfortably within your budget. Here is a basic outline of what that discussion may look like:
Factors That Affect the Cost of Invisalign
Multiple factors must be considered when determining the cost of your Invisalign treatment, such as:
Whether you're straightening both arches of teeth or just one
The overall complexity of the tooth movements required (for example, someone with only a minor space between their front teeth will pay less than someone with several extremely crooked teeth)
The projected length of treatment (longer treatment times will necessitate more aligners and therefore a higher price)
Invisalign vs. Smile Direct Club™: Which Costs More?
If you're worried about the cost of Invisalign in Oklahoma City, you may have considered using a "do-it-yourself" clear aligner system like Smile Direct Club instead. These systems are great if all you're looking for is a "quick fix" at a low cost. However, it's important to remember that when it comes to your smile, cheaper is NOT always better.
Because Smile Direct Club and other DIY clear aligner kits do NOT come with supervision by a dental professional, there is plenty of room for treatment to go wrong. For example, you might mess up the process of taking impressions of your teeth, which could end up leading to orthodontic issues that would have to be corrected by a professional anyway.
With Invisalign, though, you'll be under the trusted guidance of Dr. Hermen. He'll make sure your treatment is going swimmingly every step of the way. Ultimately, if you want to achieve a healthier, straighter smile, it's worth it to invest in a professional treatment like Invisalign.
Does Dental Insurance Cover Invisalign?
Not all dental insurance policies include coverage for orthodontic treatment, and those that do usually only cover traditional braces. However, this is not always the case! It's a good idea to let our knowledgeable team take a look at your specific plan and find out how much coverage you qualify for. We are in-network with BlueCross BlueShield, Delta Dental, and HealthChoice, but we accept most dental insurance plans.
Options for Making Invisalign Affordable
In addition to maximizing your insurance benefits, we offer third-party financing through CareCredit to help you afford Invisalign. This company has help countless patients fit their dental and medical care into their budgets. It offers several flexible payment plans to choose from. Many of them even come with little to no interest!
Invisalign FAQs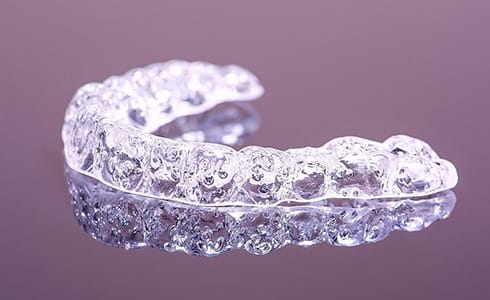 Invisalign is a discreet solution for teens and adults who want to correct the alignment of their teeth and bite. Although you're ready to invest in a healthy, straight smile, we know you still have a few concerns before you're ready to commit to the aligners. Don't worry, we'll explain everything during your initial consultation. While you wait for your appointment, we have the answers to the top Invisalign FAQs in Oklahoma City to feel confident in the decision you're making for your smile.
How long will my treatment take?
There isn't any way to know how long your treatment will take without first performing a consultation. On average, most patients are finished with their plan in about 12 months; however, there are various factors that influence the duration of your treatment, such as the complexity of your case and your age. Generally, patients who need to make significant movements will require more aligners than a person who needs minor adjustments. Teens often achieve their goals quicker than adults because they are still growing and developing. We'll explain how long you can expect it to take and discuss what you can do to ensure there aren't any delays added to your plan.
What happens if I break an aligner?
Your aligners are made from durable, transparent plastic. They are designed to last, but they aren't indestructible. If an aligner breaks or you lose one, it's best to contact our office right away to see if you need a replacement. Depending on how long you've been wearing the current aligner, we may recommend switching to the next in the series or using one from the previous week.
Will I need a retainer when I'm finished?
If you want to maintain your results, you'll need to wear a retainer when you're finished with your aligners. The device will prevent your teeth from moving back into their previous positions. Initially, we'll recommend you wear it as much as possible, but as time passes, it will only be needed at night. There are many retainers available, many of which are less noticeable, so you don't need to worry about their appearance.
How much does Invisalign cost?
There isn't a set fee for Invisalign because the cost is based on your specific treatment plan, like the number of aligners needed. We'll provide you with an estimate during your initial consultation and explain the fees associated with your care. A member of our team will discuss your payment options, like using your dental insurance or third-party financing.
Can I use my dental insurance?
Every policy is unique; however, many plans cover orthodontics, including Invisalign. After reaching your deductible, you are given an allowance to help offset the amount you will pay out-of-pocket. We'll work on your behalf with your insurance carrier to file the necessary claim forms, so you have one less thing to worry about. Our office will maximize your annual benefits to lower the cost to keep your new smile within your budget.