August 21, 2023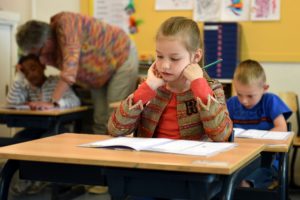 A new school year is here. As your child heads back to the classroom, school supplies aren't the only thing they need to succeed. The Centers for Disease Control and Prevention (CDC) reports that 34 million school hours are lost annually from oral health issues, many of which are preventable. Researchers have found that dental health directly influences a child's school performance. Here's what you need to know to ensure your little one has the healthy smile they need to succeed.
Dental Health and School Performance
Although baby teeth are only in place for a few short years, they are invaluable to your child's oral health, development, and general wellness. They also act as placeholders for their adult teeth. As their baby teeth are replaced by their permanent set, their pearly whites need to last them for a lifetime.
Unfortunately, the CDC reports that 37% of children under the age of 8 and 58% of teenagers in the US have had a cavity. Tooth decay is a leading cause of dental pain, despite being preventable.
The American Journal of Public Health has published a study involving school absences from dental issues. According to the results of the study, 6 days of school are missed annually among elementary students. Of those absences, 2.1 days are related to dental problems.
Researchers have found that children with poor dental health are 4 times more likely to have a lower GPA. With tooth decay more common than childhood asthma, you must safeguard your little one's smile from decay.
Back-to-School Dental Tips
You can ensure a toothache doesn't keep your child out of the classroom by following a few tips:
Schedule a Cleaning and Checkup: Starting before their first birthday, children should see their dentist every 6 months for a cleaning and checkup. It allows their dentist to monitor their developing smile to address anything concerning while it's still small. Routine care prevents minor issues from turning into big problems.
Teach Good Oral Hygiene Habits: Encourage your child to brush their teeth for at least 2 minutes twice per day. Around the age of 6, introduce daily flossing to clean between their teeth.
Encourage Healthy Foods: Limit foods containing sugars and starches. Encourage low-fat dairy products, fresh fruits and vegetables, and plenty of water.
Choose Fluoride Products: Fluoride is known as "nature's cavity fighter" because it strengthens enamel. Choose dental products containing fluoride and ask your child's dentist about the benefits of fluoride varnish.
Invest in an Athletic Mouthguard: According to the National Institutes of Health, one-third of dental injuries are sports-related. An athletic mouthguard lowers their risk of dental damage, jaw injuries, and concussions
Ensure your child goes back to school with their best foot forward. They'll look and feel their best, and you'll have peace of mind knowing their mouth is healthy.
About Dr. Jeffery F. Hermen
Dr. Hermen achieved his dental degree from The OU College of Dentistry and has regularly continued his education to provide the most up-to-date services, like orthodontics and cosmetic dentistry. Dr. Hermen is affiliated with many professional organizations, including the Oklahoma Dental Association. Request an appointment through his website or call (405) 584-6088.
No Comments »
No comments yet.
RSS feed for comments on this post.
Leave a comment