May 1, 2023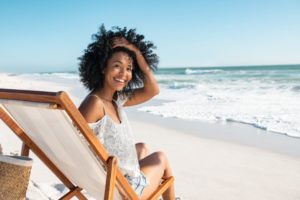 What are your plans for the summer? It most probably includes making special memories with your family and friends. Whether you will be enjoying an overseas trip or pool time fun, you will want to always keep your oral health in its best condition. No one wants a dental emergency to dampen the good times! Here are five ways to keep your smile safe and healthy this summertime.
#1. Drink Lots of Water
Staying hydrated is not only essential for your overall health but your grin too! Water helps to wash away the bad bacteria in your mouth. It also keeps it moisturized so you don't get a dry mouth, making you more susceptible to tooth decay and cavities. So, instead of reaching for another soda, grab a nice cold bottle of water. As a bonus, drinking fluoridated tap water will add an extra layer of protection since fluoride helps protect your pearly whites from decay.
#2. Keep Up with Your Oral Hygiene Routine
Summertime can be nonstop and it's easy to get off track with simple routines like daily brushing and flossing. However, it's essential to be consistent with your dental care since you will most likely be eating and drinking foods and beverages that are more harmful to your smile. If you know you will be traveling a lot, you can even schedule a checkup and cleaning beforehand to add an extra layer of care. Your dentist can treat any oral health issues before they become more serious.
#3. Don't Use Your Teeth as Tools
Do you chew on ice frequently? Or perhaps open packages with your teeth? These poor dental habits can weaken and even break one of your teeth. Keep some sugar-free gum with you to help combat your ice habit. You can also have a small tool handy to open boxes and bottles. Your smile will be healthy and whole all summer!
#4. Limit Your Sugar Intake
The warmer months bring about many sweet treats and drinks. These can include sodas, lemonade, pina colada, popsicle, or ice cream cone. Moderation is key; try to place a limit on yourself. When you do indulge, you can rinse your mouth out with water afterward to free your teeth from harmful sugar and the bacteria that feed upon it.
#5. Protect Your Smile While Being Active
Many people become more active during the warmer months. From volleyball games to throwing a football, there are plenty of ways to get outside and have fun with loved ones. However, these contact sports can lead to dental injury. By wearing a custom mouthguard from your dentist, you can keep your body and pearly whites in good condition!
About the Author
Dr. Jeffrey Hermen keeps the smiles of Oklahoma City whole, healthy, and beautiful. With over 30 years of experience, he provides a full range of services, including preventive and emergency care. Dr. Hermen can help you with any unexpected oral health issue by using state-of-the-art technology and dental sedation to help you stay comfortable. To schedule a same-day appointment, contact him through his website or call (405) 621-2100.
No Comments »
No comments yet.
RSS feed for comments on this post.
Leave a comment