April 27, 2023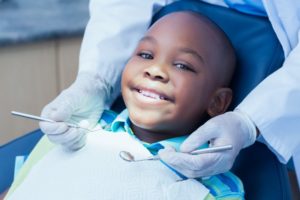 While you may have done everything you can to help keep your child's smile healthy, they still have gotten a cavity. The comforting news is that they are not alone. According to the National Institute of Dental and Craniofacial Research, 42% of children from ages 2 to 11 develop a cavity in their baby (primary) teeth. However, if the cavity has become so severe the center of the tooth is infected, a filling won't do the job of treating your child's tooth. The two choices will likely be pulp therapy or having the tooth removed entirely. Although it may seem like an extraction of a baby tooth makes the most sense, pulp therapy may be the right way to go to restore your child's smile! Read on to learn more about this treatment and how it can benefit your little one.
What Is Pulp Therapy?
Pulp therapy is basically root canal therapy performed on a baby teeth instead of a permanent one. There are two different procedures within pulp therapy: pulpectomy and pulpotomy. A pulpotomy is where the pulp in the visible portion of the tooth is removed, but the pulp in the root canal remains untouched. On the other hand, a pulpectomy removes the inner infected pulp. In both cases, a numbing agent will be used to ensure the child is comfortable. The tooth is then filled and, if necessary, a dental crown will be used to protect the remaining tooth's structure.
Why Is Pulp Therapy Needed?
You may be asking yourself why baby teeth would even be treated since they usually come out naturally at some point. It may seem like it makes more sense to remove them entirely if they become decayed or damaged. However, these small teeth are more important than just making your little one look cute! Not only do they allow your child to bite and chew their food properly (allowing them to get adequate nutrition), but they also are placeholders for permanent teeth. The baby teeth make sure the permanent ones are aligned and allow them to erupt where they should. By keeping all your child's primary teeth, the chances of needing orthodontic care when they are older are significantly decreased. With pulp therapy, you are keeping your child's smile healthy and whole not just now, but for years to come!
About the Author
Dr. Jeffrey Hermen helps keep the big and little smiles of Oklahoma City whole, healthy, and beautiful. With over 30 years of experience, he offers a broad range of services, including children's dentistry. Dr. Hermen and his team treat their little patients just like their own. By using advanced dental technology and customized plans, he can help keep your child's teeth healthy as well as treat any existing oral health issues. To schedule an appointment, contact him through his website or call (405) 621-2100.
No Comments »
No comments yet.
RSS feed for comments on this post.
Leave a comment