April 7, 2023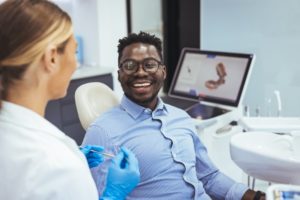 While brushing twice a day and flossing daily are essential in keeping your smile in peak condition, there is another important part of the oral health puzzle. By going to visit your dentist every six months for your dental checkups and cleanings, you will not only keep your teeth and gums healthy but catch and treat any dental issues before they become more serious. So, why not make the most out of these important appointments? Here are four great questions to ask at your next checkup for your best smile yet!
#1. "How Can I Improve My Oral Health?"
A great dental routine involves brushing twice daily and flossing at least one time a day. While these essential habits are key to keeping your pearly whites and gums healthy, you can always ask your dentist for any additional practices you could begin. For example, they can give you insight into specific techniques to effectively remove plaque from your teeth or they can recommend current products that can take your oral health routine to the next level!
#2. "Are There Any Treatments or Procedures I Could Benefit From?"
The advances in dental technology and techniques have come a long way. Now, there are so many options to restore, improve, or perfect your smile! As a matter of fact, restorative and cosmetic treatments can not only elevate your appearance but protect and improve your oral health. From veneers to laser dentistry, there are many treatments to help your grin. Ask your dentist if they think one will benefit you.
#3. "Is There Anything I Should Tell My Primary Care Doctor About?"
Did you know that roughly 90% of health conditions have oral symptoms? The health of your mouth is truly a sign of your overall well-being! Since your dentist can see warning signs for health concerns such as diabetes, oral cancer, and osteoporosis, it's important to visit them for your regular checkups. If they do notice anything unusual, you can let your primary physician know as soon as possible so you can get the treatment you need.
#4. "When Should I Schedule My Next Visit?"
In general, it is recommended to get a dental checkup and cleaning every six months. However, if your dentist suggests some restorative care or you are interested in enhancing your smile with a cosmetic dental treatment, you may need to schedule an appointment sooner. To ensure everything goes smoothly, be sure you are clear about the next steps before setting your next dental visit.
Asking your dentist questions is a wonderful way to be proactive about your dental health. As a matter of fact, they welcome your inquiries! By having an open dialogue with your dentist, you are sure to keep your oral health in top condition for many years to come.
About the Author
Dr. Jeffrey Hermen is eager to help you keep your smile in top condition. With over 30 years of experience, he offers a broad range of services, including preventive, restorative, cosmetic, and emergency care. By using advanced dental technology and customized plans, he can assist you with any oral health care need or concern. To schedule an appointment, contact him through his website or call (405) 621-2100.
No Comments »
No comments yet.
RSS feed for comments on this post.
Leave a comment