February 10, 2023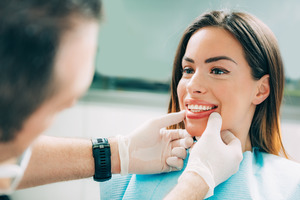 When you choose to have cosmetic dentistry done to create the smile you've always wanted, the first step is to schedule a consultation with your dentist. The purpose of this visit is to go over your smile goals and create a treatment plan that will help you achieve them. It's important to take this opportunity to make sure you're as informed as possible about the process you're about to commit to. Here are 5 important questions you should get the answers to during your cosmetic consultation.
1. What Kind of Cosmetic Experience Does Your Dentist Have?
While most dentists offer cosmetic services, some have more experience performing them than others. They may also have undergone special training to improve their expertise when it comes to these types of treatments. Your initial consultation is a good chance to ask your dentist what their cosmetic background looks like so that you can be sure that you've chosen the right practice for your smile's needs.
2. Which Cosmetic Treatment is Right for You?
Even if you already have a specific kind of cosmetic procedure in mind, your dentist will need to make sure that you're a good candidate for the proposed treatment. They'll carefully consider the changes you want to make and examine your mouth carefully for any oral health issues that might need to be addressed beforehand. Depending on their findings, they might suggest having a different procedure done or undergoing certain preliminary treatments to improve your candidacy.
3. How Long Will Your Cosmetic Treatment Take?
Some cosmetic procedures such as dental bonding can be completed in as little as one appointment. Other treatments like veneers might require you to schedule multiple visits. Your dentist will give you an estimate of how long you can expect the cosmetic process to take. This is especially important if you're having a smile makeover done, as you'll need to account for the time it will take to complete each individual procedure.
4. How Much Will Your Cosmetic Treatment Cost?
The amount you'll pay for cosmetic dentistry can vary based on your unique circumstances. For example, if you're getting veneers, the overall cost will depend on how many teeth need to be covered. Before you make any commitments, your dentist will make sure that you're fully aware of how much you can expect to pay. They'll also review your options for making cosmetic treatments more affordable, such as CareCredit financing.
5. How Long Will the Results Last?
When you invest in a new smile, you'll naturally want to know how long the results will last. Your dentist can give you an estimate of how many years it will be before your cosmetic work needs to be refreshed or replaced. They can also give you tips for taking care of your smile to keep it looking dazzling for as long as possible.
About the Author
Dr. Jeffrey F. Hermen earned his Doctor of Dental Surgery at the OU College of Dentistry. He loves having the opportunity to build relationships with his patients and help them achieve their smile goals. He has completed extensive training in cosmetic dentistry and offers a wide range of appearance-enhancing treatments. If you'd like to schedule a cosmetic consultation with Dr. Hermen at his Oklahoma City practice, visit his website or call (405) 621-2100.
No Comments »
No comments yet.
RSS feed for comments on this post.
Leave a comment