May 20, 2022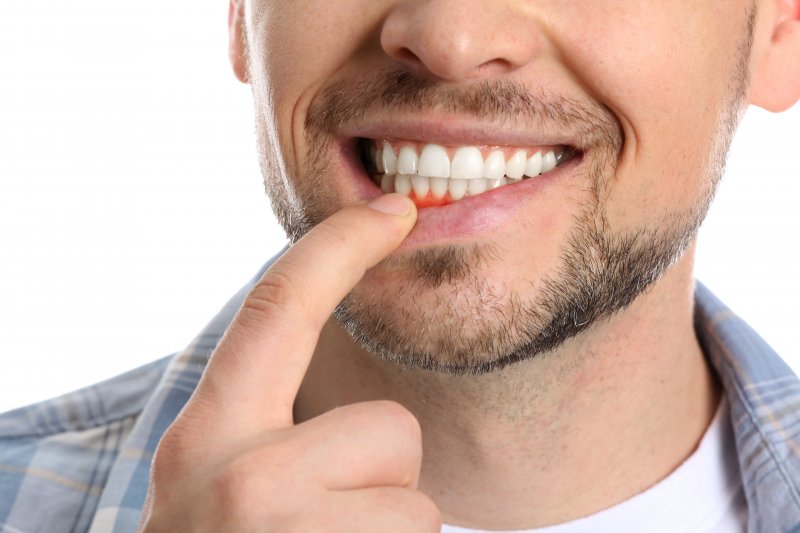 Gum disease doesn't just develop out of the blue. People can and do have traits that make them more likely to get it. The opposite is also true — changing or eliminating these things could lower the odds of contracting the condition. Assuming you're interested in the latter, the issue becomes learning the gum disease risk factors.
Luckily, your local dentist can solve that problem for you. Listed below are five major risk factors for gum disease. Read about them so you can raise your chances of avoiding a nasty infection.
Age
For whatever reason, it seems age impacts one's chances of developing gum disease. Current research shows that older people have the highest rates of periodontal (i.e., gum) disease. Data from the Centers for Disease Control and Prevention (CDC) states that over seventy percent of Americans sixty-five and older have some form of it.
Physical Stress
Stress is unpleasant in itself and elevates your risk for ailments like hypertension, cancer, and other health problems. Even so, it's also been linked to gum disease. Present-day research proves that stress can make it difficult for the body to fight off infection, including periodontal diseases.
Tobacco Use
Even apart from oral health, tobacco use links to many serious illnesses such as cancer, lung disease, and heart disease. However, those who use it face more danger from periodontal disease. Studies have concluded that consuming tobacco products may be one of the most significant factors in the development and progression of gum disease.
Poor Nutrition or Obesity
A low-nutrient diet can compromise your body's immune system and make it harder for you to fight off infections. After all, nutrients and minerals act as the fuel for your organs and other bodily systems. Because periodontal disease begins as an infection, poor nutrition can also worsen the condition of your gums.
In addition, research has shown that obesity may increase the risk of periodontal disease.
Other Systemic Diseases
Several other systemic diseases that interfere with the body's inflammatory system may worsen your gums' health. In particular, studies have proven a connection between periodontal disease and conditions like cardiovascular disease, diabetes, rheumatoid arthritis, and Crohn's disease.
By knowing the above risk factors, you'll be better able to avoid gum disease in the future. Assess which ones could apply to you and take the proper actions!
About the Author
Dr. Jeffrey F. Hermen is one of the premier dentists in Oklahoma City, Oklahoma. Having practiced dentistry for nearly thirty years, he loves working to make patients' smiles beautiful and healthy. He also knows the highest levels of preventive, cosmetic, and restorative dentistry. He even pursues continuing education on the latest dental advances. Dr. Hermen currently practices at his self-titled clinic and can be reached at his website or by phone at (405)-621-2100.
No Comments »
No comments yet.
RSS feed for comments on this post. TrackBack URL
Leave a comment